Activity Playgrounds are proud to introduce their latest commercial playground range 'Inclusive'.
Focusing on an all inclusive play range for children of all ages and abilities, this play equipment has been designed to create accessible features for children with disabilities and to create a space to explore the senses of physical and cognitive development. Most of all, creating a space for children to come together and have fun!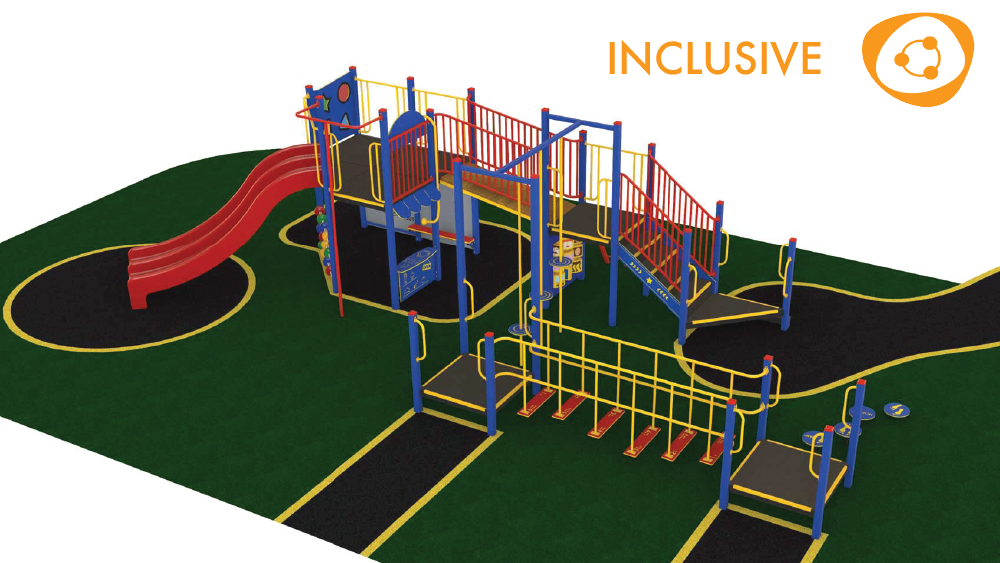 Features of the commercial playground displayed above include:
Abacus Frame – Tactile activity that teaches counting and sorting. 
Finger Maze – Creates a quiet, tactile challenge.
Shop Panel – Encourages imaginative and social play.
Seat – Provides a resting point for those who need quiet play.
Talk Tube – Engages the auditory senses and encourages social play.
Rocky Gully – Vestibular challenge with counting game. 
Stepping Stones – Vestibular challenge with jumping game.
Transfer Station – Creates an easy to use transition point for those using mobility aids. 
Stairs – Large, even treads make transition between upper & lower platforms easier. Full barriers provide security for those with impaired mobility. 
Hand Grips – Bright Yellow colour creates an easily visible contrast while providing hand holds to aid in stepping onto the playground.  
Double Slide – Multi-lane slide encourages social play.
Firepole – Helps build upper and lower body strength.
Inclined Pommel Walk – A more challenging activity which engages the vestibular sense. 
Dress-up Panel – Creates a quiet, tactile matching activity. 
Hand grips, safety loops and safety barriers have been thoughtfully placed around the play unit to ease the difficulty of traversal for those with impaired mobility. 
Bright, visually contrasting colours and edging has been used throughout this play unit and rubber surfacing can be used beneath it to assist those with visual impairments. 
Components from the Inclusive range can be used to supplement existing playgrounds or can be combined and customised to produce an all-inclusive play space within your community.
This playground is ideal for primary schools and local community parks where children of all ages and abilities come together with one thing in mind – FUN!
To view more of our commercial playground equipment from our Inclusive Playground Range follow the link below.