Fortitude Range – Timber and Steel Play Equipment
"Fortitude is the marshal of thought, the armour of the will, and the fort of reason." – Francis Bacon
Play is an essential part of a child's development. Through play, children are encouraged to use their imagination, while improving physical and emotional strength and dexterity. Playgrounds come in many different shapes and sizes. However, an effective and engaging playground is more than just a play space. It is a place for children to flourish, but also a place of connection that brings together the whole community.
With this in mind, we have created a range of play equipment that integrates learning, fun, and visual appeal, to compliment any play space or landscape design.
Expanding on the Resilience range, our new Fortitude range combines the strength and longevity of modern steel, with the warm, welcoming tones of Australian native timber.
Designed and manufactured in Australia using high-quality materials, the Fortitude range is built to withstand the environment, as well as years of play.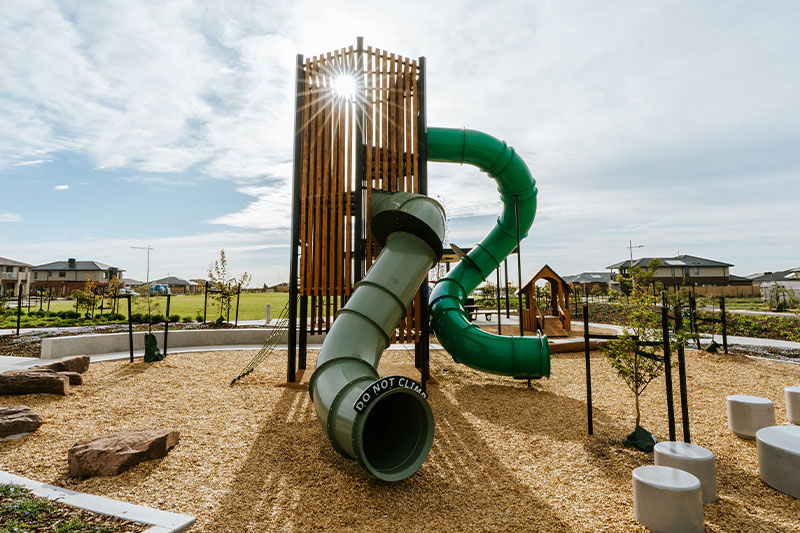 Contemporary yet Timeless
Drawing on 30 years of experience, the Fortitude range has been conceived to accentuate all environments, creating visual continuity with the natural landscape as well as surrounding structures. Each piece features a contemporary yet timeless design, with bold colours set against calming natural wood, creating an eye-catching and inviting space.
The Fortitude range is nature play with a contemporary twist; children will feel at home and connected to nature amongst the timber elements of each play item, yet will benefit from modern ingenuity. Wooden play equipment is effective in reducing stress and encouraging calmness and is also soft to the touch. The Fortitude range takes these benefits and combines them with innovative design, for a play experience like no other.
Versatile and modular, multiple elements from within the Fortitude range can be combined to create a themed outdoor design. For smaller spaces, or part of an existing project, individual pieces can be utilised as complementary, standalone play items.
All equipment designed and installed by Activity Playgrounds—including the new Fortitude range, meets and exceeds the relevant Australian standards for playground equipment. With strengths in both design and longevity, the Fortitude range will ensure your space becomes a staple for learning and outdoor play within your community.