A public playground with high play value can easily become the heart of a community. Thoughtful design, visual appeal, and opportunity for education and engagement will see families returning to a community play space time and time again.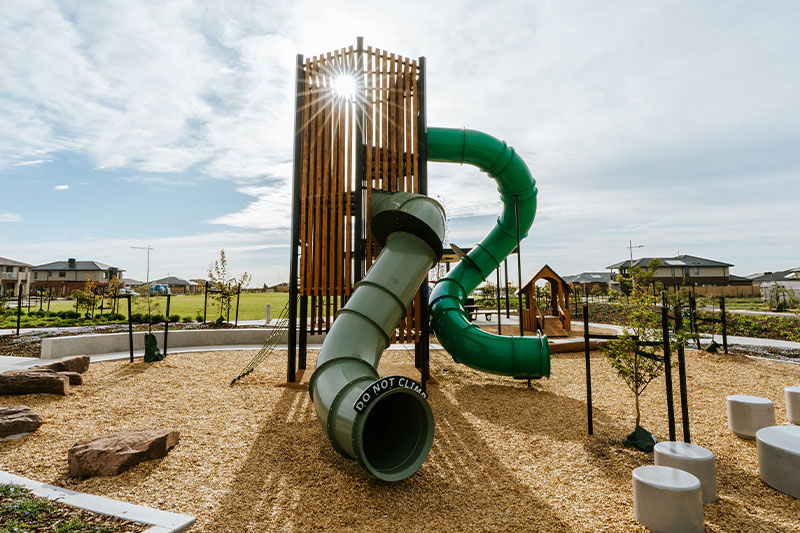 Connecting and Supporting the Community
For over 30 years, Activity Playgrounds has been creating public play spaces in Australia. We understand that a great playground can have a substantial positive impact on the surrounding community—when visiting a public playground, children connect with their neighbourhood and develop good social skills, confidence, and communication. And a popular playground situated in an urban area can also increase foot traffic, leading to increased support for local businesses. That's why our playground designs combine enjoyment, learning, and aesthetic appeal, for a unique space and a memorable play experience to match.
Play Pieces for Every Neighbourhood
Quality and longevity are important to us, so we design and manufacture our equipment in Australia, to meet and exceed the relevant playground quality standards. We offer play pieces comprised of high-quality Australian steel, premium HDPE plastics, and native Australian timber, to ensure each piece will withstand years of community play. Each piece within our many ranges, has been designed to complement the aesthetics of parks and reserves, as well as urban, populated areas. And for more specific concepts, we can create custom designs to suit all spaces, budgets, and requirements.
Contact us to create an engaging playground design for your school today. Or click here to view our full range of products.